INSTRUCTIONS: How to add additional users to your Google Analytics account?
See the article below for instructions on how to add a new user to Google Analytics.
To add a new user to your Google Analytics account, you must first log in to your account using your email (or phone number) and password. Please note that all Google services require a Google account. You can have it both at the general @gmail.com and at your own address. But let's go back to the instructions for adding a user.
1. After logging in, the homepage of your Google Analytics account will appear, which will look similar as seen in Figure 1.
Note: If you manage multiple accounts, be sure to check in the upper left corner that you are logged in to the correct one.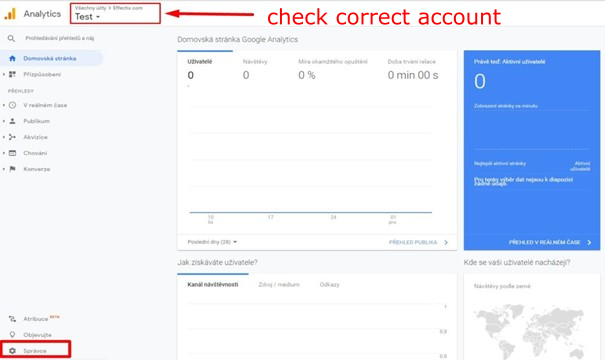 To add a user, click the Správce/Admin tab in the lower left corner of the homepage.
In the Účet/Account, Služba/Service, or Výběr dat/Data Selection column (depending on whether you want to add users at the account, service, or data selection level), click the Správa uživatelů/User Management option.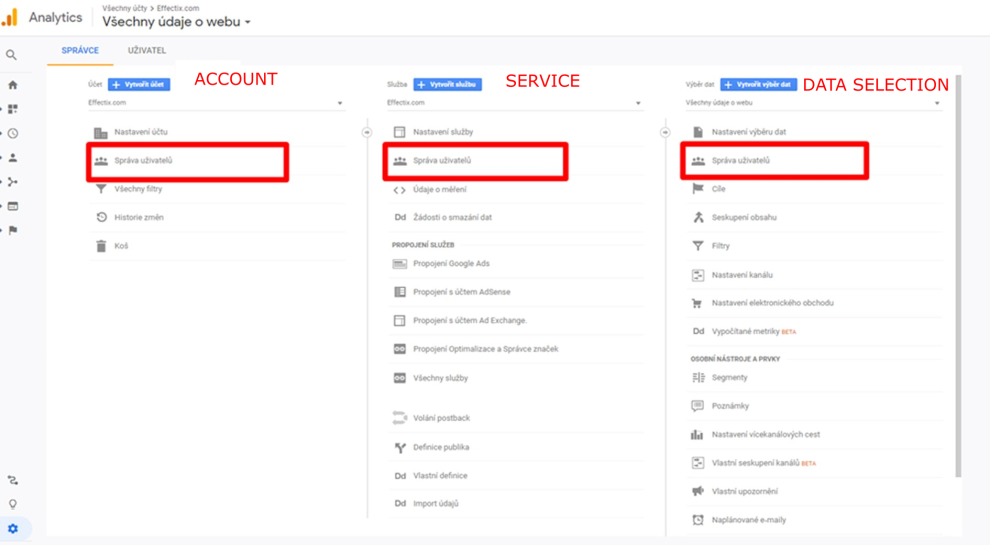 In the Uživatelé účtu/Account Users list, click the +button, and then click Přidávání uživatelů/Add Users.

Enter the e-mail address of the user's Google Account. It is possible to add more users (e-mail addresses) at once.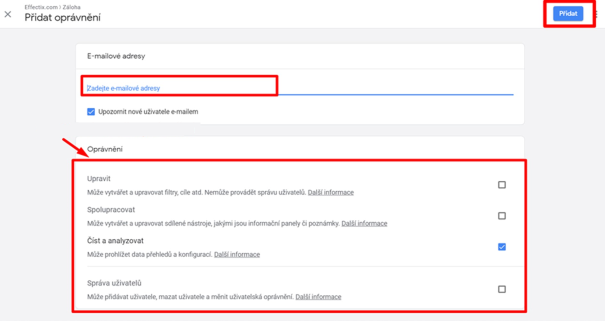 To send a message to the user, select Upozornit nové uživatele emailem/Notify new users by e-mail. (We recommend choosing this option.
Select the desired permission level. When working with our clients, we most often require the Upravit/Edit access level so that we can link Google Ads and set up goals, filters, and generally start measuring correctly.
Finally, click Přidat/Add

in the upper right corner. If you have chosen to notify the user by e-mail, the e-mail will be sent and the new user can already manage the account.
Levels of individual Google Analytics permissions
Upravit/Edit – It allows you to perform administrative and reporting-related functions (e.g., add, edit, or delete an account, service, data selection, filter, goal, etc., but not manage users) and view report data.
Spolupracovat/Collaborate – It allows you to create, edit, delete, and share personal information. It allows you to collaborate on shared materials; it includes read and analyze permissions.
Attribution models
• Channel grouping
• Conversion and goal segments
• Custom reports
• and others
Číst a analyzovat/Read and Analyse – It allows you to view reports and configuration data, work with data in reports (e.g. filter a table, add a secondary dimension, create a segment), create and share personal information, and view shared documents. However, it does not allow you to collaborate on shared documents.
Správa uživatelů/User management – It allows you to manage user accounts (add and delete users, grant permissions). It does not include permission to edit or collaborate. It can grant full permission to any user, including itself, for any account, service, or selection of data for which it has this permission.
Do you want to know more about the improvement of the content? Contact me.
You might be interested in
Hottest news from online marketing! Subscribe to our newsletter.